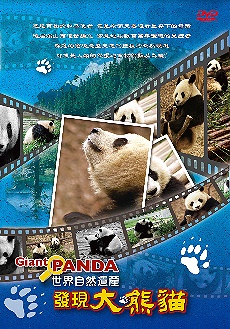 世界自然遺產 發現大熊貓 Giant Panda
Giant Panda語言:中文
長度:60分鐘x1集
類型:自然生態紀錄片(HD)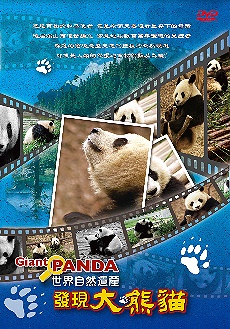 內容簡介:
經過幾百萬年的進化歷程,大熊貓被科學家和考古學家譽為古生物"活化石"。而在過去的一萬年來,人類文明發展不斷侵噬著屬於大熊貓的自然領地,迫使牠們大部分退居於青藏高原東部邊緣的高山深谷之中。四川大熊貓棲息地於2006年獲得聯合國教科文組織通過,成為世界自然遺產,境內面積9245平方公里,擁有豐富的植被種類,是全球最大亦最完整的大熊貓棲息地。
由於大熊貓棲息地正面臨嚴重的破碎化,加上繁殖率低,野外種群的數量不足千隻,因此協助族群復育和棲息地的環境維護,已成為極重要的瀕危動物保育課題。相關國際組織與科學團體不斷積極展開合作,投入對大熊貓的保護和科研工作。
本片的製作團隊深入四川臥龍大熊貓棲息地,進行實地拍攝,不僅跟隨著科研隊伍前往深山老林,探索野生大熊貓的足跡,同時亦隨其進入大熊貓繁育研究基地,探訪這些獻身山區以從事大熊貓保護研究的專家,如何在艱苦的環境下努力不懈,並以科研成果攻克大熊貓繁育過程中"配種難、受孕難、幼仔存活難"的三大難關。
隨著攝影鏡頭的突襲熊貓幼兒園,我們得以一窺熊貓寶寶們成長茁壯的秘密,牠們一邊學習嚼食竹子的生活技能,一邊不忘打鬧嬉戲,還得接受玩球、跳躍、攀爬等體能鍛鍊,為日後回歸自然的挑戰做準備。透過這些珍貴畫面的捕捉,生動呈現熊貓寶寶們日常生活的點滴記事,過程中妙趣橫生卻又發人深省!
Giant Panda
Language: Mandarin
Subtitle: Chinese
Duration: 60min.
Genre: Documentary
Synopsis:
Passing through millions of years of evolution, the giant pandas are considered as living fossils. However, the hominine development has been compromising pandas' natural habitat constantly in the past 10,000 years and driving them to withdraw themselves from the world to evade into the east fringe of Qinghai-Tibet Plateau. And the giant panda's habitat in Sichuan Province of China has been identified as world heritage by UNESCO in 2006. The 9,245 square meters field has rich vegetation of various plants and is the largest giant pandas' habitat around the globe.
The amount of wild pandas has declined to the number below 1000 partly because their continuously fracturing habitat and partly of the low rate of breeding. Therefore, organizing group reproduction and preserving pandas' habitat from depredation have become crucial in all endangered species preservation issues. Associated international organizations and science groups have been collaborating and devoting their efforts to preserve the giant pandas' survival while researching the relative scientific factors.
The production team traveled into panda habitat in Sichuan to film their daily lives and went deep in the forests to unveil their trails with research team members. The team also interviewed the experts of panda preservation in the reproduction and research station to see how they keep working in such a poor condition and overcome the enigmas of breeding, fertility and nurturing the newborns based on results of their researches. In the panda nurture home, you can see how little pandas learn to chew the bamboos and practice living skills while frolicking with each other. Other activities such as playing balls, jumping and climbing are also built to train the pandas for their future wild lives. These precious footages captured the baby pandas' everyday lives. Enjoy this joyful and educational journey with us!
Giant Panda語言:中文 長度:60分鐘x1集 類型:自然生態紀錄片(HD) 內容簡介: 經過幾百萬年…